Today, the Financial Stability Board (FSB) and the International Organization of Securities Commissions (IOSCO) proposed a set of assessment methodologies for identifying non-bank non-insurance global systemically important financial institutions (NBNI G-SIFIs).  The proposal includes a high-level framework for identifying G-SIFIs and implementation approaches that will apply across all NBNI financial entities.  It also includes NBNI financial sector-specific methodologies for (1) finance companies, (2) market intermediaries (e.g., securities broker-dealers), and (3) investment funds.
Complement Existing Methodologies for Identifying G-SIFIs:  According to the FSB and IOSCO, the proposed assessment methodologies for identifying NBNI G-SIFIs complement the existing methodologies for identifying global systemically important banks (G-SIBs) and global systemically important insurers (G-SIIs).  Our blog post on the Basel Committee's July 2013 updated methodology for identifying G-SIBs is here.  Our blog post on the FSB's November 2013 list of G-SIBs is here.  Our blog post on G-SIIs and the related policy framework is here.
Specific Designations and Policy Measure to Come:  While the proposal includes specific methodologies for identifying NBNI G-SIFIs, it does not designate any specific entities as NBNI G-SIFIs or propose any policy measures that would apply to NBNI G-SIFIs. In a September 2013 report, the FSB explained that policy measures will be developed once the assessment methodologies are finalized.
Principles:  According to the FSB and IOSCO, the proposed methodologies are based on the following principles:
The overarching objective in developing the methodologies is to identify NBNI financial entities whose distress or disorderly failure, because of their size, complexity and systemic interconnectedness, would cause significant disruption to the global financial system and economic activity across jurisdictions.
The general framework for the methodologies should be broadly consistent with methodologies for identifying G-SIBs and G-SIIs, i.e., an indicator-based measurement approach where multiple indicators are selected to reflect the different aspects of what generates negative externalities and makes the distress or disorderly failure of a financial entity critical for the stability of the financial system (i.e., "impact factors" such as size, interconnectedness and complexity).
Proposed Indicators:  Following is a high-level overview of the proposed indicators for assessing the systemic importance of NBNI financial entities (excerpted from FSB and IOSCO proposal).  Click on image to enlarge.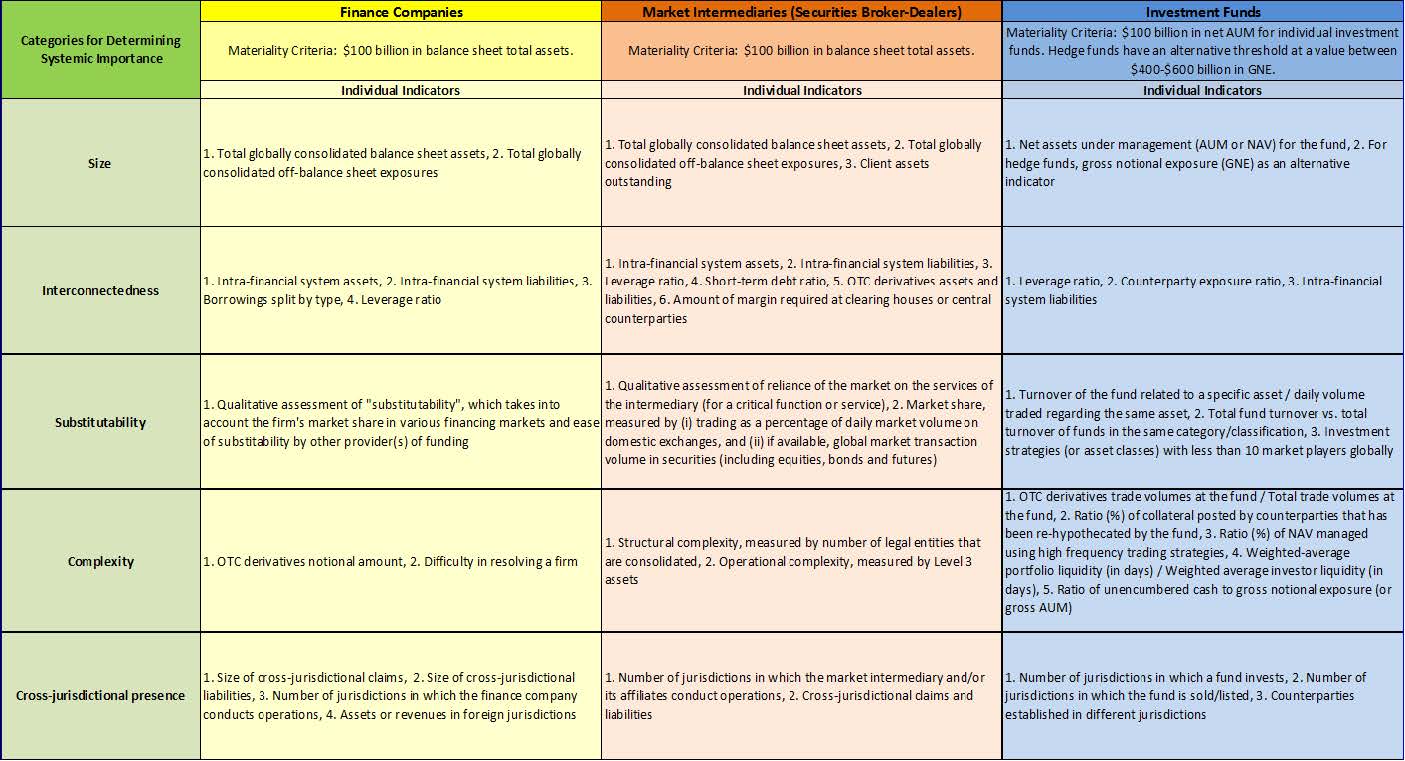 Comments:  Comments on the FSB and IOSCO proposal should be submitted by April 7, 2014.
Materials: 
FSB and IOSCO, Assessment Methodologies for Identifying Non-Bank Non-Insurer Global Systemically Important Financial Institutions – Proposed High-Level Framework and Specific Methodologies (Consultative Document) (Jan. 8, 2013) available here: http://www.financialstabilityboard.org/publications/r_140108.pdf