Today, the Financial Stability Board (FSB) published a set of policy recommendations and reports designed to strengthen the oversight and regulation of the shadow banking system.  One of the FSB's reports, entitled Policy Framework for Addressing Shadow Banking Risks in Securities Lending and Repos, sets out recommendations for addressing financial stability risks in this area, including enhanced transparency, regulation of securities financing and improvements to market structure.
FSB's Proposed Framework for Minimum Haircuts on Securities Financing Transactions:  Among other things, the FSB report includes a proposed regulatory framework for haircuts on non-centrally cleared securities financing transactions (SFTs).  The proposed framework comprises two elements:
1.  Minimum qualitative standards for methodologies used by all market participants to calculate haircuts (including additional guidance for methodologies used by market participants to calculate margins on a portfolio basis); and
2.  A framework of numerical haircut floors that will apply to non-centrally cleared SFTs in which entities not subject to regulation of capital and liquidity/maturity transformation receive financing from regulated financial intermediaries against collateral other than government securities.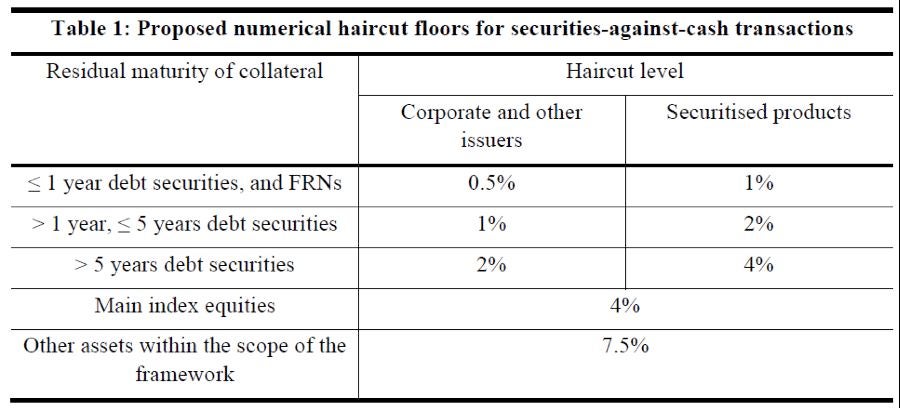 Implementation of the Proposed Framework:  According to the FSB, the proposed framework for numerical haircut floors could be implemented in various ways including (i) regulatory capital regimes for regulated intermediaries; (ii) minimum margin requirements for regulated intermediaries; or (iii) market-wide regulation of SFTs.  The first two approaches would only cover transactions in which regulated intermediaries provide financing to "other entities", whereas the third approach would cover transactions among all types of entities.
According to the FSB, its proposed numerical haircut floors should be implemented through regulatory capital or minimum margin regimes for regulated intermediaries.  At present, FSB members believe the value of outstanding transactions in which "other entities" provide financing to "other entities" to be small.
Potential Implementation Through Modifications to Basel Capital Framework:  The FSB report includes some preliminary proposals for how numerical haircut floors might be implemented through modifications of the current Basel capital requirements for non-centrally cleared SFTs.  Specifically, the preliminary proposals would involve modifications to the collateral haircut approach in the Basel capital framework's standardized approach for calculating risk-weighted assets for credit risk.
Capital Charges to Incentivize Banks to Impose Minimum Haircut Floors:  The FSB's preliminary proposals involve higher bank capital charges on SFTs with haircut below the numerical floor to incentivize banks to impose haircut floors on counterparties.  Specifically, the FSB set forth two options.
Option 1:  Under option 1, transactions with haircuts below the numerical floor would be treated as unsecured for regulatory capital purposes.  In other words, a bank would not be able to take into account the risk-mitigating effects of collateral supporting the transactions.
Option 2:  Under option 2, the capital charge for not complying with the haircut floors is reduced (compared to option 1) in order to maintain incentives for banks to lend on a secured basis.  One way to accomplish this is by reducing the value of collateral in proportion to the difference between the minimum haircut floor and the haircut applied by the banks.
Materials:  
Financial Stability Board, Policy Framework for Addressing Shadow Banking Risks in Securities Lending and Repos (Aug. 29, 2013) available here: http://www.financialstabilityboard.org/publications/r_130829b.pdf
Financial Stability Board, Policy recommendations to strengthen oversight and regulation of shadow banking (Press Release) (Aug. 29, 2013) available here: http://www.financialstabilityboard.org/press/pr_130829a.pdf